The Foundations of High-Quality Teaching practices engages participants in their personal connection to the field of early childhood by invoking them to create a belief statement about high-quality teaching practices. It also provides an opportunity for participants to identify specific practices in a classroom observation and to explore leadership's role in ensuring program-wide teaching practices are implemented. When obstacles arise, participants will have identified possible solutions to overcoming them in a proactive manner so they can remain focused on ensuring the highest quality learning experiences are provided for the children and families who participate in the program.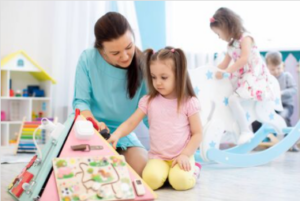 Who should attend?
Executive directors
Family support staff
Family support supervisors
Local evaluation partners (LEPs)
Master teachers, coaches, curriculum and instruction managers, education coordinators
National evaluation partners (NEPs)
Program administrators
Program area managers
School directors
Teaching staff
All other Educare staff
Would you like to learn more?
For more information on this or any of our other offerings, please complete this short inquiry: https://www.surveymonkey.com/r/LSLHInquiryForm