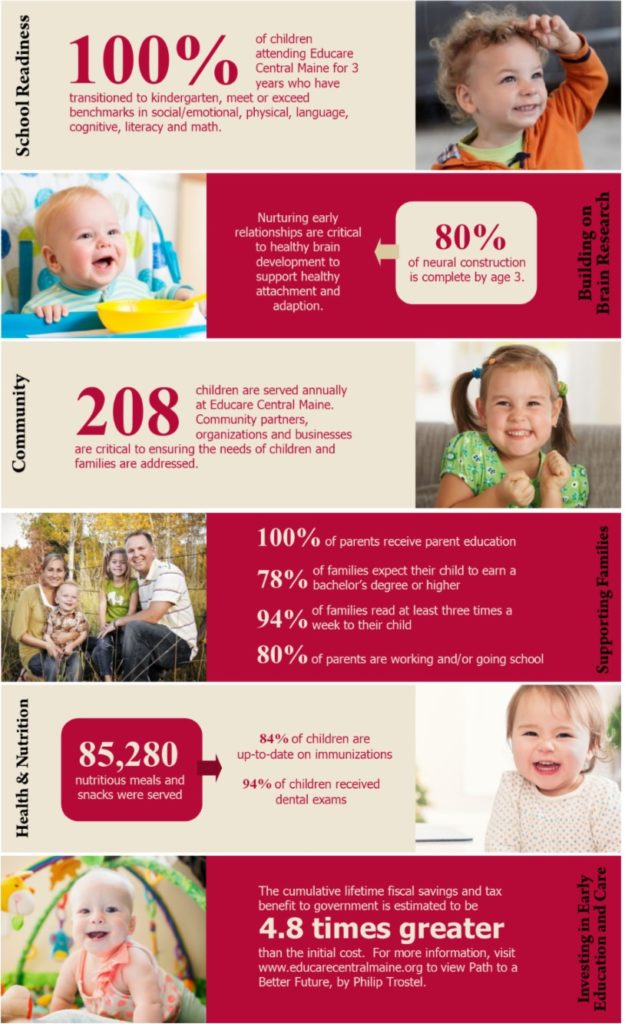 Results from a longitudinal study of Educare sites around the country indicate that earlier is better. Children living in poverty who enter Educare programs at age one do not experience an achievement gap upon kindergarten entry and are on par with children from other socio-economic groups.
Literacy Skills
Children who begin school with prior knowledge and skills in a variety of language and literacy areas are more likely to become successful readers in elementary school. This is significant because children who struggle as readers at the end of first grade are usually still poor readers at the end of fourth grade. Reading problems can be prevented through early detection and immediate intervention.
There is a strong relationship between vocabulary and reading comprehension. Educare's child assessments in the areas of vocabulary, phonological awareness and alphabet knowledge (letter and beginning sounds), rhyming, and concept of the words in text reveal the following outcomes:
Peabody Picture Vocabulary Test
This test measures English with a mean score of 100¹ considered a "good score." Educare Central Maine, English:  105.5
Classrooms of High Quality
Quality early childhood programs have been linked to immediate, positive developmental outcomes, as well as long-term positive academic performance². The Classroom Assessment Scoring Scale's (CLASS) (score range is 0-7) and is used to measure classroom quality in ECM. Educare Central Maine: Emotional Support (6.6), Classroom Organization (6.1), and Instructional Practices (3.6). 
School Readiness
School readiness skills of young children are assessed in six subscales of the Bracken School Readiness Assessment: colors, letters, numbers/counting, sizes, comparisons, and shapes. The range that is termed "average" is 86-114, with 100 being the mean score. Educare Central Maine's score for the first class moving into kindergarten: 100.4
Resiliency
Resilience is important because it is the human capacity to face, overcome, and be strengthened by or even transformed by the adversities of life. Children from low-income families need to become resilient to overcome the adversities they face: they cannot do it alone. The crises children face both within their families and in their communities can overwhelm them. With resilience, children can triumph over trauma; without it, trauma (adversity) triumphs.
A child's ability to form positive responses to adverse childhood experiences depends upon the quantity and quality of protective factors. How parents and other caregivers respond to situations, and how they help a child to respond, separates those adults who promote resilience in their children from those who destroy resilience or send confusing messages that both promote and inhibit resilience. Educare staff is trained to promote resiliency in children and families. High protective factors equate to lower behavioral concerns. In spring 2016, these results were:
Protective Factors:  A lack of protective factors was a concern for 19% of children.  
Behavioral Concerns:  Behavioral concerns were an issue for 18% of children.
Parent Engagement
Parent involvement is intricately linked to children's school readiness. Research shows that greater parent involvement in children's learning positively affects the child's school performance, including higher academic achievement³.  Simple interaction, such as reading to children, leads to greater reading knowledge and skills.  Parent involvement outside of home, such as participation in literacy events and/or classroom activities, relates to their reading, general knowledge, and mathematics knowledge and skills.
94% of parents read three or more times a week to their child; and, 66% read six or more times a week to their child.
All parents participate in other program activities.
Continuity of Service
Continuity of care in the early years of life is an essential component of effective, quality early care and education.  Often children and families experience 10-15 different adult caregivers before the child enters kindergarten.  Lack of care continuity disrupts child development and studies have found that multiple and changeable caregivers for infants and toddlers is associated with lower intelligence scores, poorer social relationships, and more insecure attachment with mothers. Trust and relationship building are critical for both the children and their parents during the early learning years. Maine must adopt policies that support continuity of service rather than disparate and changing care-giving situations.
For more information on the Educare Learning Network National Results, please click here.
Resources
1 Peabody Picture Vocabulary Test (PPVT) 2 (Burchinal, Peisner-Feinberg, Bryant & Clifford, 2000; Ramey & Ramey 1998).  3 (McNeal, 1999; Scribner, Young, & Pedroza, 1999; Sui-Chu & Willms, 1996; Trusty, 1998; Yan & Lin, 2002) and greater social and emotional development (Bredekamp & Copple, 1997; Fantuzzo & McWayne, 2002).