Rotary Club of Waterville
Contact: Jeff Melanson
C: (207) 314-0412
E: jmelanson514@gmail.com
FOR IMMEDIATE RELEASE: (WATERVILLE) – December 2020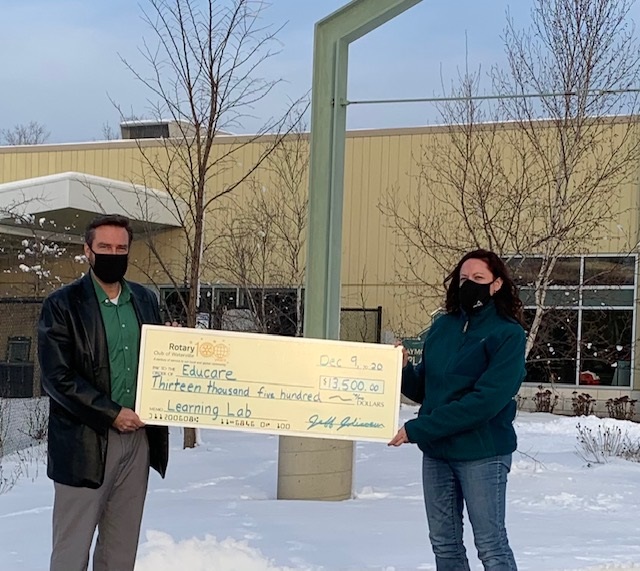 Rotary Club of Waterville Wraps Up Successful Annual Rotary Auction
Proceeds to benefit Educare Central Maine Lab School and Learning Hub.
The 57th annual Waterville Rotary Auction with hundreds of gifts, services and discount items was held in late November as a part of the Waterville Rotary Club's commitment to support of area programs and initiatives highlighting childhood literacy.
This year, Rotary Club of Waterville identified Educare Central Maine's Lab School and Learning Hub as the beneficiary of proceeds from the 2020 Rotary Auction. Total auction proceeds, supplemented by a Rotary divisional grant allowed for a $13,500 donation to this program.
Educare is celebrating its 10-year anniversary this year, having served more than 1,300 children from more than 1,000 families. It is a platform for change, working to provide support as they accomplish their goals to advance their schooling and employment opportunities. Children will be ready to thrive when they enter kindergarten and parents will be equipped to support their family's needs.
For more about Educare's Lab School & Learning Hub, go to https://www.educarecentralmaine.org/lab-school-learning-hub/)
Educare Central Maine Director of Development Erin Merrill explains that "Educare is launching the Lab School and Learning Hub in our second decade of service as a way to help train more professionals wanting to get into the early education field.  Educare is partnering with KVCC and Thomas to offer field placement sites and badging qualifications for students who want to graduate and go into the early childhood field.  The Learning Hub will also help community providers create and elevate their own early childhood programs with professional development assistance from Educare staff.  This is truly an Educare Beyond the Walls model that will help to create more quality providers in Central Maine and beyond.  Those providers will then have the tools needed to assist families and children in meeting their goals for a better, healthier, more prosperous future."
The Waterville Rotary Club hosts the auction each year in late November to benefit what Rotarians determine to be among the worthiest causes of the region. Every year, for more than half a century, this important community event has raised money to meet area needs. Projects from multiple disciplines and organizations are all included in Rotary's efforts to make a difference in the communities in which we all live and work.
Rotary Club of Waterville would like to thank the community for its support and contribution to area businesses and to the promotion of literacy in central Maine and beyond.  For more information about the Rotary, visit the website at http://www.watervillerotary.com.