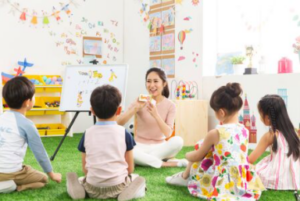 In High-Quality Teaching in Practice, participants develop or deepen their understanding about why the quality of instruction needs to be improved for all children in early childhood. Participants explore the relationship between the opportunity gap and implicit bias, and they explore leadership's role as the driver of high-quality teaching practices. Participants develop sample lesson plans that incorporate specific research- based, high-quality teaching practices and explore the Focused Teaching Cycle as a framework for understanding and implementing those practices.
Who should attend?
Executive directors
Family support staff
Family support supervisors
Local evaluation partners (LEPs)
Master teachers, coaches, curriculum and instruction managers, education coordinators
National evaluation partners (NEPs)
Program administrators
Program area managers
School directors
Teaching staff
All other Educare staff
Would you like to learn more?
For more information on this or any of our other offerings, please complete this short inquiry: https://www.surveymonkey.com/r/LSLHInquiryForm