The Embedded Professional Development in Practice training supports early childhood programs and providers in cultivating a climate and infrastructure (processes) of embedded professional development for continuous quality improvement. Participants contrast the mindset, methods and practices of traditional professional development with embedded professional development. Participants examine the need for collaborative, job-embedded professional development and come to understand the best practice in adult knowledge development in order to improve professional practice. Specific examples, contexts and formats of embedded professional development are explored to understand the strategies to establish infrastructure that supports embedded professional development.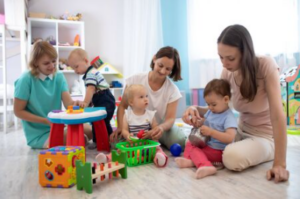 Who should attend?
Executive directors
Family support staff
Family support supervisors
Local evaluation partners (LEPs)
Master teachers, coaches, curriculum and instruction managers, education coordinators
National evaluation partners (NEPs)
Program administrators
Program area managers
School directors
Teaching staff
All other Educare staff
Would you like to learn more?
For more information on this or any of our other offerings, please complete this short inquiry: https://www.surveymonkey.com/r/LSLHInquiryForm