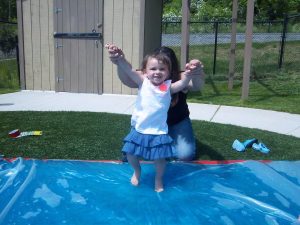 Maci attended Educare from 2011-2016, between the ages of two months and five years.
Today Maci is nine and just started the 4th grade.  She enjoys swimming, running, riding her bike, painting, trampolines, LOL dolls and beanie boos!
Our family fondly remembers attending the family engagement events at Educare.  Some of our favorite memories are of  Maci's Art shows (especially the Dr Seuss themed one she was involved in), and some of her classroom specific events for the entire family such as Fancy Day and Fun Color Days.
Being a part of Educare helped us as parents be able to work to take care of our family.  Because of Educare, Maci was able to grow and learn new skills, try new foods, make new friends, and get lots of exercise!
~Rachael and Jimmy (parents)